When the Art Students League celebrated its 125th anniversary, The New York Times listed a dozen "Luminaries of the League". Amongst those names was Timothy J. Clark. His work has been the focus of numerous curated solo museum exhibitions, most recently at California's Laguna Art Museum and at the Loyola University Museum of Art (LUMA) in Chicago. In collections including the Smithsonian/National Portrait Gallery, the City Museum of New York, Maine's Farnsworth Art Museum, and the Butler Museum of American Art in Ohio, Clark stands as a modern master figurative painter known for his command of composition, drawing and color, moving the continuum of art language with commitment and power.
Winter/Spring Exhibition
Venetian Views
The San Diego Museum of Art
Exhibition Extended
August 8 – May 20, 2017
Thank you to all who have gone to visit this exhibition. For those who've yet to experience it, the exhibition has been extended into spring 2017 due to the strong and enthusiastic response of museum visitors. Like so many smaller exhibitions, it's potent in its curating. It connects ideas over centuries and is meaningful to us today.
— T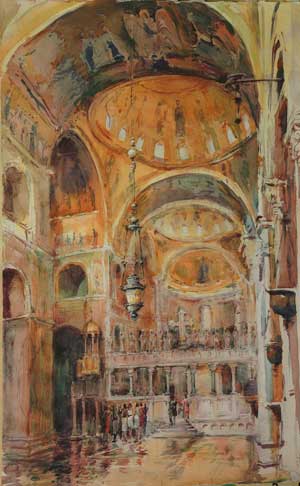 The San Diego Museum of Art
Balboa Park, San Diego, CA 92101
(619) 239-2001
Open Daily 10 A.M. – 8:30 P.M.

This exhibition focuses on the Venetian masters Canaletto, Bernardo Bellotto and Francesco Guardi. My watercolor, San Marco, represents contemporary painting of the long-beloved subject of the city of Venice.
"The luminous watercolors of Timothy J. Clark are the successors to Sargent's ethereal atmospheres of light, mist and color."
—Michael A. Brown, Ph. D, Associate Curator of Art
---
Spring 2017
Recent Acquisitions
The Laguna Museum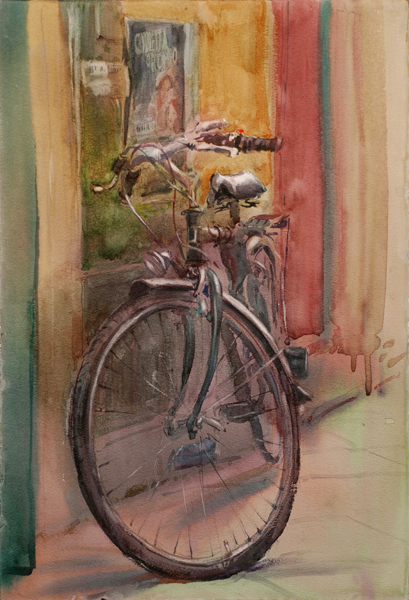 "Woven through Timothy J. Clark's paintings are unique combinations of visual and emotional stimuli….His sense of space, light and composition combine to create graphic tensions which intrigue beyond the beautifully-painted forms of the subjects."
—Will Barnet, N.A.
"Clark's ostensibly forthright watercolors…not only are glittering in their execution – bathed in sunlight, swathed in shadow, shimmering with sure-handed yet expansive and textured brushwork on papers by Fabriano, d'Arches, and Winsor & Newton – but also embody the postmodern concept of art-as-idea. These are no 'pretty pictures,' but diffidently profound documents of human existence."
—Dr. Lisa Farrington
"Timothy J. Clark's delicious watercolors remind me of the Italian word for a particularly fluent, graceful, and refreshing performance in any of the arts – sprezzatura, which means making a difficult task look effortless, like the relaxed, soaring leap of a superb athlete who has spent years preparing for this moment of triumph."
—Donald Holden, N.A.